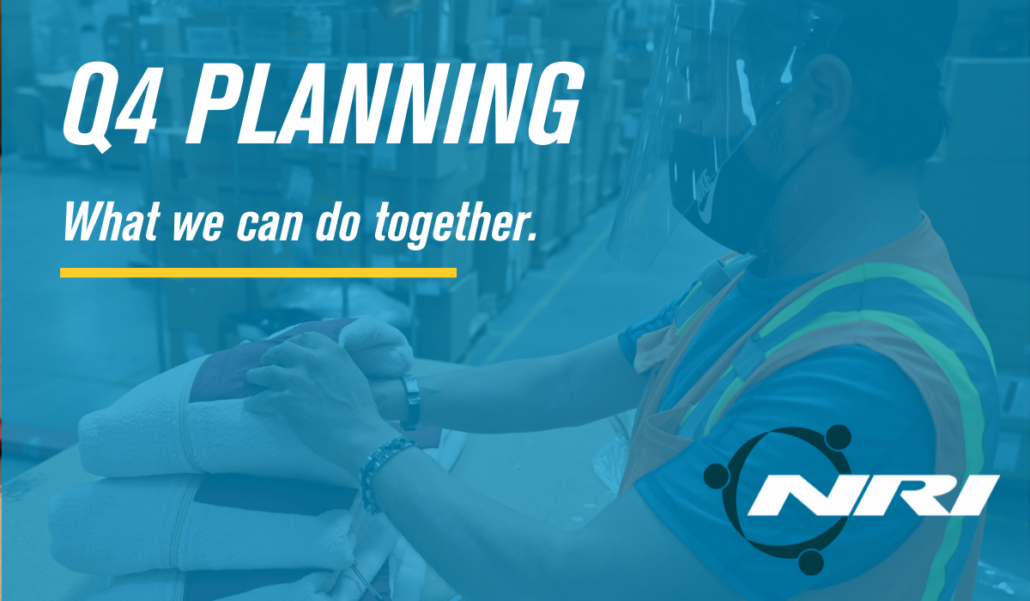 Though it may feel too early to talk about it, like putting up Christmas decorations in October, the Q4 retail peak is just around the proverbial corner.
With all the challenges 2020 brought us, there is expectation for a very positive retail recovery through the end of the year.  The National Retail Federation revised its annual forecast for 2021 recently, anticipating that retail sales will grow between 10.5% and 13.5% this year as the economy accelerates its pace of recovery.  Non-store and online sales, which are included in the total figure, are expected to grow between 18% and 23% as consumers continue to utilize ecommerce.
This reopening of the economy is at a pace much quicker than most believed possible.  It will put a strain on the supply chain from ports, to carriers, to warehouses, and more.  So, what can you do to try to make the most of it?  What are we doing?  We have put together a few details to answer these questions, based on years of experience in the management of the challenges Q4 often brings brands.
Forecasting – Forecasting is a critical piece in successful execution.  Your 3PL and other service providers need to be able to plan and shift resources around this information.  This is doubly important when promotions are started earlier in the quarter – pre-Black Friday for example.  NRI has dedicated forecasting and planning resources who work with our client partners to capture this detail to build successful space and labor plans.  Surprises are bound to happen, so it's important to minimize them as much as possible by sharing expectations with your service providers well in advance and updating them frequently.
Staffing – COVID continues to have an impact and many employers are still faced with persistent challenges in achieving sufficient staffing.  The additional demand for staff due to the increased ecomm behaviors, coupled with workers' concerns about returning to work, means employers must work harder to attract and retain talent.  NRI continues to engage all safety protocols as needed to protect our team members and business continuity.  We remain committed to bringing our frontline team members into the organization with attractive compensation, full time hours, and a positive work environment.  Our focus on continued education and being a values-based organization ensures that our team members have career opportunities and a supportive workplace.  We have scaled resources through our recruitment and retention efforts and will be continuing to do so into Q4.
Automation & Solutions – Automation solutions help with labor shortages, but also improve the existing workers' experience.  Robotic solutions reduce the travel time for employees and increase throughput and order accuracy.  NRI has invested in additional automation which allows us to scale throughput at our pack stations and transiting goods through the facilities.  Brands can help support these initiatives to gain efficiencies in the pack process as well – whether it is eliminating the waste of packing slips, migrating to label packing slips, or adopting non-branded mailers.  Beyond automation, our team of industrial engineers are continuously identifying and leveraging our clients' activity patterns to support product lay-out and configuration within our facilities.  With the usual Q4 business compression, now coupled with the challenges COVID brings, it is imperative we find and embrace all opportunities, no matter how small, to improve order processing time.
Carrier Constraints – Carrier networks are vital to the successful delivery of packages to the customer.  No matter how well-oiled your 3PL is, most packages are delivered by another company.  3PLs must be providing carriers with forecasts as well, and carriers are planning on placing restrictions and surcharges on volumes in Q4.  To work within these challenges, NRI's transportation team have developed solid strategies in conjunction with our carrier partners.  Our TMS allows us to work with multiple carrier partners to ensure that options are available to our clients – a cost saving and security measure to ensure more than one available delivery solution.  Brands may wish to consider verbiage on their websites to educate customers on Q4 congestion.
We are excited for the upcoming activity and the positive results our amazing clients will see as the economy regains steam.  We are always happy to discuss solutions.  Please reach out anytime.
https://nri3pl.com/wp-content/uploads/2021/08/LinkedIn-post-3.png
700
1200
Ryan Dale-Johnson
https://nri3pl.com/wp-content/uploads/2020/02/logo_nri_light.svg
Ryan Dale-Johnson
2021-08-18 04:16:54
2021-12-29 16:56:56
Planning for Q4 Success