Shipping Times Matter to Your Customers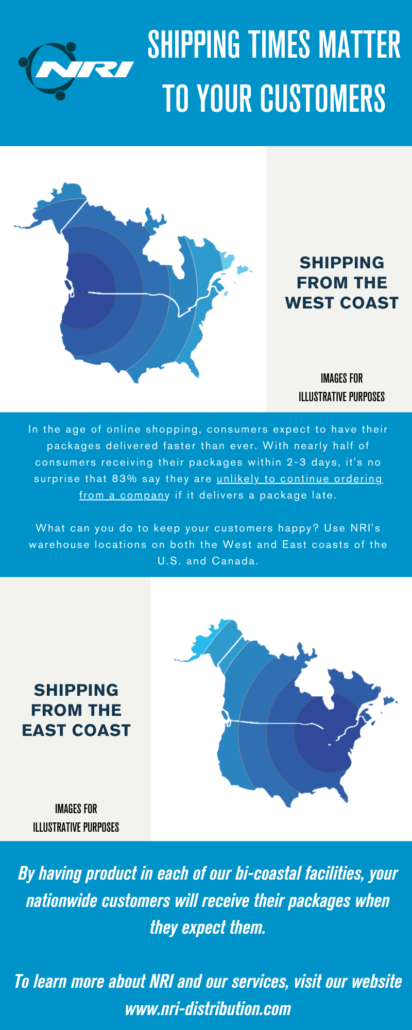 Shipping and delivery times are often hard to predict, particularly given the increase in carrier congestion as of late. Customers have become accustomed to receiving their packages almost instantly (thanks to a certain online retail giant) and it's no surprise that they grow impatient when waiting for their delivery. In 2016, customers expected to receive their order about 5 days after they placed their order. Now, almost half of customers expect to receive their order within 2-3 days; that's nearly 2 days sooner! The pressure is on all parts of the supply chain, since 83% of customers are less likely to make another purchase is there are shipping delays.
The million-dollar question is what can you do to reduce shipping times?  One of the benefits of NRI is we have a "4 Corners" strategy – facilities in Canada and the U.S. on both the east and west coasts of each country. For our clients with a heavily weighted east coast business, it may make sense to place inventory in the east. For those chasing the Pacific Coast customer base, place inventory in the west. NRI are experts in inventory management and can help you place inventory in all 4 corners if you wish – allowing you to ship your customers from the nearest facility. By placing your product in facilities on both of our coasts, in either Canada, the U.S., or both, NRI can help reduce shipping times significantly. We aim to help you in your success through geographical intelligence.
An added benefit to using our Canadian facilities is Section 321. Section 321 allows companies to import goods into the U.S. duty-free, so long as the retail value is below $800. Duties can often form a large portion of your product cost, and by finding ways to eliminate it your margins improve significantly. By placing your U.S.-destined ecommerce inventory in our Canadian facilities, you are set for even more savings!
Shipping times matter to your customers. NRI's scalable solutions are designed thoughtfully to help you increase business, maintain customer satisfaction, and build lasting relationships.
For more information, contact us.
https://nri3pl.com/wp-content/uploads/2021/02/Shipping-Times.png
3689
5534
Ryan Dale-Johnson
https://nri3pl.com/wp-content/uploads/2020/02/logo_nri_light.svg
Ryan Dale-Johnson
2021-02-03 20:03:50
2021-12-29 18:03:05
Shipping Times Matter to Your Customers