Meet Amritesh Ghai (Amrit), a driving force behind NRI's transportation team. Passionate, determined, and ever-curious, Amrit's journey to becoming the Transportation Business Development Manager has been nothing short of inspiring.  
Amrit's career journey began as an email product analyst, but his desire for growth led him to pursue higher education in Canada. With an MBA in hand, he ventured into supply chain management, where he found his calling at NRI. 
NRI recognized Amrit's potential early on, and it wasn't long before he made his mark. Initially joining as an expert in freight reconciliation, he quickly showcased his prowessby diving into day-to-day transportation tasks. Within just o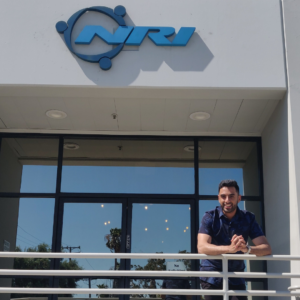 ne year, his dedication and leadership skills led him to the role of Transportation Services Supervisor for Canada, where he efficiently managed freight operations across multiple carrier networks. 
But Amrit's journey had only just begun. With a keen eye for detail and a genuine understanding of client's needs, he earned a well-deserved promotion to Business Development Manager – Transportation for both Canada and the USA. In this role, Amrit thrives on crafting tailor-made business development strategies for clients and carriers alike. He doesn't stop at numbers and data; he delves deep into understanding the very heartbeat of our client's businesses, ensuring their freight is not just handled but cared for as if it were his own. 
Amrit's impactful contributions to the team are not confined to operational tasks. He has taken on ambitious projects that have honed his expertise, such as creating standard operating procedures for dangerous goods, conducting monthly shipping analyses, and skillfully negotiating freight rates. A born problem-solver, his ability to analyze data and his unwavering commitment to continuous learning have played a crucial role in his success.  
"I love what I do, and I love making a difference." –Amritesh Ghai 
Outside work, he enjoys music (listening and playing – mostly heavy metal!), sports (he's a pro on the cricket pitch), and experimenting in the kitchen. For Amrit, his role isn't just about work; it's the people, the culture, and the shared values that resonate with his own. Amrit aligns with NRI's core values, including Disciplined and Committed: Focus on Results and Relationships Are Worth Investing In. The support and encouragement he receives from the NRI family have enabled him to reach new heights in his career. 
"It's the passion towards logistics, transportation, problem-solving and working at NRI that gives me a sense of accomplishment and excitement for each day." –Amritesh Ghai 
To those aspiring to follow a similar path, Amrit's advice is simple yet profound: Be true to yourself, work hard, maintain consistency, have an appetite for learning, and stay obedient to your work, team, and managers. Embodying these principles has not only led to his personal success but has also set an example for others to strive for excellence. 
With his passion and determination, Amrit envisions driving positive change and growth within NRI. The future looks bright for him and the Transportation team!